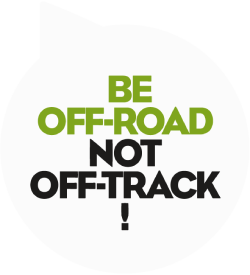 The Be Off-Road, Not Off-Track! campaign is a friendly reminder of the basics of proper off-road motorcycle riding. Whether it's before you leave or during your ride, it offers everything you need to know so that you can venture out!
Off-road motorcycle obligations and requirements;
Park regulations;
Adhering to the rules on the trails;
Inspecting your motorcycle;
Authorized places to ride;
A reminder of the behaviour and good rules of conduct to adopt.
The practice of off-road motorsports is not just a matter of skill in terms of dexterity and riding techniques. Going off-road is above all a question of "behavioural competency", which means that going off the beaten track can be done in a smart and safe way!
Whether you are a beginner or experienced motorcyclist, this is where you will find information and useful advice.
WHAT YOU NEED TO KNOW
There are several riding methods in the category of off-road motorcycles and each of them fits a specific type of motorcycle. No matter what type of motorcycle you choose, you must be aware of the laws and regulations that apply.
The FQMHR helps you define the framework that allows you to become a better rider in complete safety and legality.
MAIN GROUPS OF OFF-ROAD MOTORCYCLES DEFINED BY THE INDUSTRY

DUAL-USE
Approved for road use (registered for road use);
Combination trail and road use;
Multi-purpose and outfitted with specialized tires and suspension.

OFF-ROAD
Commonly referred to as "enduro";
Includes a wide variety of motorcycles which can accommodate the proper gear and accessories required for trail riding;
Specifically adapted for off-road riding and competition on rough terrain.

MOTOCROSS
Designed specifically for competition and closed-circuit tracks;
Outfitted with a single-cylinder engine and a suspension capable of responding to the high requirements of motocross circuits.
THE OBLIGATIONS
Be aware that the operator of any vehicle qualified as "off-road" must:
Hold a valid registration certificate, issued by the SAAQ;
Carry a civil liability insurance of at least $1,000,000.00;
His motorcycle must respect a maximum noise emission rate of 98 decibels.
ACT RESPECTING
OFF-HIGHWAY VEHICLES


PARK REGULATIONS
In Quebec, the FQMHR must subscribe to the provisions set out by the Act on Safety in Sports (Loi sur la sécurité dans les sports) of the Department of Education, Recreation and Sports (Ministère de l'Éducation, du Loisir et du Sport). These provisions involve the implementation of standards that must be met by the affiliated members and users of the network of closed-circuit and competition parks. These safety regulations* are subdivided according to the following standards:
Standards relating to participation in sanctioned activities;
Standards relating to sites offering riding, practice and training activities;
Standards relating to training and the responsibilities of stakeholders;
Standards relating to training and the responsibilities of officials;
Standards concerning the organization and conduct of a competition.
* Safety regulations are available in their entirety at the FQMHR.

GEAR
Anyone using an off-road vehicle for riding or competition purposes in parks must wear the following gear:
Helmet;
Goggles;
Chest protector;
Long-sleeve sweater;
Gloves;
Long pants;
Knee pads;
Boots.
WARNING!
Only closed parks and competition sites are authorized for motocross-type motorcycles as well as all modified vehicles, motorcycles and motorized all-terrain vehicles.

TRAIL RULES
In Quebec, users of off-road trail vehicle must entirely abide by the following conditions in order to meet regulatory standards:
Be 16 years of age or older;
Hold a skills certificate issued by an authorized agent of the government (for 16 and 17 year-old riders).;
Have a trail permit issued by the FQMHR;
For a registered off-road vehicle: Hold a Class 5 driver's licence (automobile) or Class 6D driver's licence (moped/scooter);
For a registered off-road vehicle (dual-use): Hold a Class 6A or 6B driver's licence (cylinder capacity of 400 cc or less) or 6C driver's licence (cylinder capacity of 125 cc or less);
Ride an off-road motorcycle outfitted with the following equipment* and in compliance with regulatory standards:

One white headlight;
One red tail-light;
One red brake light at the rear;
One rearview mirror on the left side of the vehicle;
An exhaust system;
A brake system;
A speedometer.
* Bullets 3, 4 and 7 shall apply only to vehicles built after January 1, 1998.
GEAR
Anyone using an off-road vehicle must wear the following gear:
Helmet;
Protective goggles;
Footwear.
WARNING!
To prevent the worst from happening, the FQMHR strongly recommends using all mandatory equipment in a park for trail use. Please be advised that:
Falls cause severe cuts, burns and scrapes;
Flying rocks and debris can cause severe injuries.
WHAT YOU NEED TO KNOW

INSPECTING YOUR MOTORCYCLE
One simple principle to follow: the TECCO Check:
Tires and Wheels > Air pressure - Condition of the tires, wheel bearings, lug nuts, etc.
Electrical Circuits and Lights > Ignition switch – Headlight and lamp - Engine stop switch
Chain and Chassis >Proper chain tension - Nuts and bolts - Condition/Lubrication/Wear and tear
Oil and Fuel > Oil level gauge - Fuel supply valve

WHERE TO GO
You are "off-road" when you enter:
a federated trail network of affiliated members of the FQMHR;
a closed-circuit park network of affiliated members of the FQMHR;
parks and sites identified for competition events.
When accessing private property without proper authorization, criminal proceedings can be instituted and fines can be issued. All land and property owners are protected by law, whether it may be an individual, a company, the government (the Ministry of Natural Resources and Wildlife, a municipality...), etc.
You are "off-track" when you enter:
a non-recognized and unidentified site;
a gravel pit in the middle of nowhere;
trails designated for other activities;
closed trails (if you don't know, don't go!);
fragile areas (marshlands, river banks, etc.);
any private property without authorization from the owner.
HOW MUCH DOES IT COST
TO BE "OFF-TRACK"?
The operator of an off-highway vehicle travelling on private land without the owner's and the lessee's consent is guilty of an offence and is liable to a fine of
$350 to $700
Act Respecting Off-highway vehicles | Chapter VI | Article 113
Please refer to the complete monetary administrative penalties and penal provisions section (Chapter VI).

KNOW HOW TO CONDUCT YOURSELF
Here are some examples of how rules and proper etiquette towards others can be applied:
Register upon arrival;
Never be under the influence of alcohol or drugs;
Wear a helmet and complete gear at all time during circuit practice;
Never take any passenger on your vehicle;
Travel at a maximum of 5 km/h outside the circuit;
Respect entrance and exit zones on the circuit;
Always complete your lap on the circuit;
Never cross the circuit at a right angle;
Pull over to the side of the track during a fall or stop;
Be respectful of other users in the park and of the environment.

DOWNLOAD
Join us and take the pledge of mutual accountability in the use of federated trails, closed-circuit parks and in competition.
It's simple and just plain common sense!
Download [PDF]:
Using FQMHR parks is also a commitment as a responsible motorcyclist!
Advantages of riding in parks and trails sanctioned by the FQMHR:
They are marked;
They are supervised;
They are maintained and the trails well groomed;
They are well laid out;
And most of all… they are LEGAL!
WHAT YOU NEED TO KNOW
The FQMHR offers you different ways of getting together with your peers and interacting with them as well as with us.
TAKE THE CHALLENGE
Take the quiz!
It will only take you two minutes to answer a few questions about off-road motorcycling.
SHARE YOUR IMPRESSIONS
Give us some feedback
Do you have any comments, suggestions or questions?
Share them with us. If not, feel free to encourage us!
BLOG
"I'M OFF-ROAD"

We would appreciate your feedback
Do you have any comments, suggestions or questions? Share them with us. If not, feel free to encourage us!
Find out what's in store
for you

Official video
Be off-road, not off-track!